Gok Wan served up tasty sesame prawn toast with beef in OK sauce on today's episode of This Morning.
The ingredients for the toast: 175g raw prawns, chopped, ½ grated clove of garlic, ½ tsp grated ginger , 1 tsp light soy, 2 tsp sesame oil, Pinch of salt , Pinch of white pepper , 1 egg white , 1 spring onion, finely chopped , 4 slices of medium sliced white bread (crusts cut off), 1 tbsp toasted sesame sesame seed and Flavourless oil (eg vegetable) to shallow fry.
For the Beef in OK sauce: 400g thinly sliced beef filet (cut diagonally across the grain), Flavourless oil (eg vegetable), to fry , 1 large white onion, cut into strips , 4 tbsp tomato sauce , 4 tbsp brown sauce, 100g brown sugar, 2 tsp light soy, 1 tsp five spice , 25ml water , 2 spring onions, cut into julienne and 1 tbsp cornflour, mixed in cold water.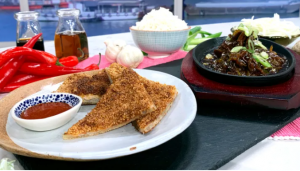 See recipes from Gok in his book titled: Gok Cooks Chinese
available from Amazon
now.