Tom Read Wilson served up delicious mini chocolate and orange curd cakes on Celebrity Best Home Cook 2021.
The ingredients are: 225g unsalted butter, softened, plus extra for greasing, 225g golden caster sugar, 4 large free-range eggs, 225g self-raising flour, 2 tbsp cocoa powder, 1 tsp baking powder, 2 oranges, finely grated zest, ½ tsp vanilla extract, 3 tbsp whole milk and pinch salt.
For the filling: 175ml double cream and 4 tbsp orange curd.
For the glacé icing: 2 tbsp orange curd, 100g icing sugar and few drops of orange juice.
To decorate: dark chocolate, grated.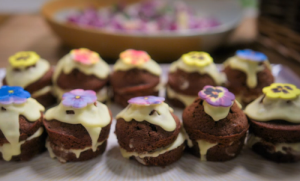 See more chocolate cake recipes in the book titled: 150 Amazing Chocolate Cake Recipes: Chocolate Cake Cookbook – Your Best Friend Forever available from Amazon now.