Liam Charles showcased his ginger biscuit card tower with deck of cards for today's technical challenge on Junior Bake Off.
For the gingerbread: 225g plain flour, 1 tsp bicarbonate of soda, 2 tsp ground ginger, ½ tsp ground cinnamon, 75g unsalted butter, 100g dark muscovado sugar and 75g golden syrup.
For the orange curd mascarpone filling: Juice and finely grated zest of 1 unwaxed orange, 80g caster sugar, 2 large egg yolks, 35g unsalted butter and 110g mascarpone.
To decorate: Cornflour, for dusting, 200g ready-to-roll white fondant, 50g ready-to-roll red fondant, 50g ready-to-roll black fondant and Edible glue (optional).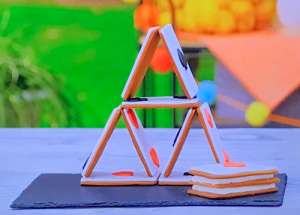 See Liam's recipes in his book titled: Liam Charles Cheeky Treats: 70 Brilliant Bakes and Cakes – by the breakout Great British Bake Off star
, available from Amazon
now.