Rav Gill showcased her tasty tiger pretzels with a chewy crust and served with a paprika and Parmesan butter for today's technical challenge on Junior Bake Off 2021.
The ingredients for the dough are: 180ml warm water, 4g active dried yeast, 10g unsalted butter, melted, 2 tsp caster sugar, 240g plain flour, plus extra for dusting, ½ tsp fine salt, Black, orange and yellow food-colouring gels, Sea salt, for sprinkling and Sesame seeds, for sprinkling.
For the boiling solution: 1 tsp bicarbonate of soda and 2 tsp caster sugar.
For the Parmesan butter: 140g unsalted butter, softened, 50g parmesan, grated, 1 tsp paprika, or hot or sweet smoked paprika and Freshly ground black pepper.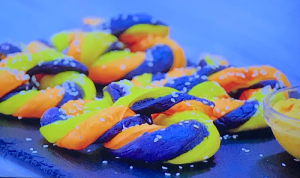 See recipes by Rav in her book titled: The Pastry Chef's Guide: The secret to successful baking every time
available from Amazon
now.