Rick Stein served up tasty rib-eye steaks with peppercorns, chillies and bearnaise sauce on Rick Stein's Cornwall.
The ingredients for the peppermix: 1 chipotle chilli, seeds removed, 1 pasilla chilli, seeds removed, 2 tbsp black peppercorns, 2 tbsp white peppercorns, 2 tsp szechaun peppercorns and 1 tbsp sea salt flakes.
For the steak: 2 rib-eye steaks (approx. 225g each), well marbled with fat, at room temperature, ¼–½ tbsp peppermix (as above) and 2 tsp rapeseed oil.
For the bearnaise sauce:L 5 tsp white wine vinegar, tbsp fresh tarragon, chopped, 1 shallot, finely chopped, 10 turns of black pepper from a grinder, 1 egg yolk and 110g unsalted clarified butter.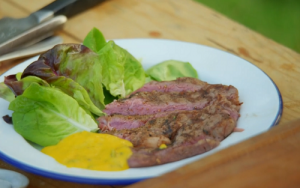 See recipes by Rick in his book titled: Coast to Coast: Food from the Lands & Sea Inspired by Travels Across the World
available from Amazon
now.