Olly Smith showcased five delicious drinks which look like booze, but which don't have a drop of alcohol in them and are ideal for pregnant mothers this Mother's Day Sunday.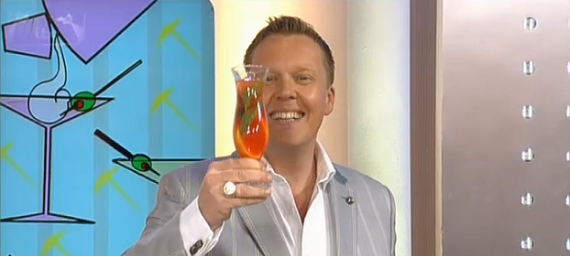 Olly's Sham-pagne
1 measure of lime cordial, 1 measure elderflower cordial, 3 drops orange blossom water, 250 ml ice cold soda water, Ice.
Non Alcoholic Sangria
100 ml Pomegranate juice, 25 ml of cold tea, sprig of fresh mint, fresh slice of orange, fresh slice of lemon, fresh chopped strawberries, 50 ml Aranciata Rossa San pellegrino, Ice.
Tropical Punch
50ml Passionfruit juice, 50ml Pineapple juice, 50ml Mango juice, Slice of fresh lime, Slice of fresh orange, Slice of fresh pineapple, 25ml of Five Valleys Peach and Lychee cordial, 25ml Bottle Green Ginger and Lemongrass cordial, 100ml fizzy water, Ice.
Cool As
A long thin slice of fresh cucumber in the glass to garnish, Sprig of fresh rosemary in glass to garnish, 100ml of Marks and Spencer's sparkling white fizzy grape juice, 100 ml Fever Tree Ginger Beer, 30ml homemade rosemary syrup (easy to make, take a few sprigs of fresh rosemary, heat in a pan with equal parts sugar and water for about five mins and allow to cool), Ice.
The Virgin Willoughby
Half fill the glass with ice and a few chopped fresh strawberries, 40ml Belvoir Strawberry and Rhubarb cordial, 200ml chilled sparkling elderflower, 20ml fresh orange juice, 20ml chilled cranberry juice, 20ml Innocent Super Smoothie Energise, Ice.