Atul Kochhar served up a tasty monkfish and prawn curry on James Martin's Saturday Morning.
For the prawns: 12 head on prawns, peeled and cleaned (6-8 or U5 prawns), 500 gm monk fish tail, cut into 4 equal pieces, 1 tbsp ginger-garlic paste, 2 tbsp lemon juice, 1 tsp red chilli powder and ½ tsp garam masala.
For the sauce: 2 tbsp ghee, 2 medium onion, finely chopped, 1 tsp chopped garlic, 1 tsp chopped ginger, 1 tsp chopped green chilli, 2 Indian bay leaves, 1 tsp turmeric powder, 1 ½ tsp red chilli powder, mixed with ½ cup water, ½ tsp black cardamom powder, ¼ tsp cinnamon powder, ¼ tsp black pepper powder, ¼ tsp garam masala powder, A tiny pinch of clove powder, ½ cup Greek yoghurt, whisked, 100 ml tomato passata, 4-6 dried apricots, soaked and made into a paste, Salt to taste and 2 tbsp chopped coriander leaves.
To pan fry and roast prawns and monk fish: 2 tbsp sunflower oil, 2 tbsp ghee, 1 tbsp ginger chopped, 1 green chilli slit, 4-5 sprigs of coriander leaves and 6-8 pcs of dried apricots.
To garnish: Coriander cress, Mixed flowers, Oyster leaves and Caramelised silver skin onions.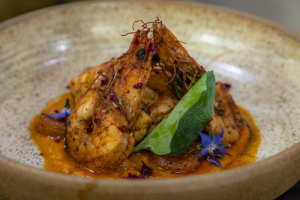 See recipes by Atul in his book titled: Simple Indian: The Fresh Tastes of Indian's Cuisine
available from Amazon
now.