Sam Smith and Jamie Oliver served up tasty roasted haggis tacos with red onion ceviche, creamy avocados and a spicy salsa on Jamie and Jimmy's Festive Feast.
The ingredients for the spiced paste are: 2 tablespoons annatto seeds, 120 ml hot water, ½ a large onion, 5 cloves of garlic, 1 tablespoon dried Mexican oregano, 1 teaspoon freshly ground allspice, 1½ teaspoons freshly ground black pepper, 50 g ancho chilli powder, 1 teaspoon coarse sea salt, 3 tablespoons cider vinegar and Juice of 3 oranges.
For the filling: 1 red onion, 1 small haggis , (450g), 1 x baby back ribs , (400g), 250 g shoulder of pork , bone out and skin removed and 350 ml organic chicken stock.
For the corn tacos: 500 g white masa harina flour.
For the red onion ceviche: 2 red onions, 2 oranges and 2 limes.
For the avocados: 3 avocados, 1 lemon and ½ a bunch of fresh coriander , (15g).
For the spicy salsa: 4 jalapeno chillies, 20 cherry tomatoes on the vine, 2 cloves of garlic, 2 limes, extra virgin olive oil and 1 large bunch of fresh mint , (30g).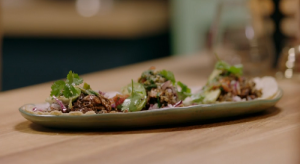 See Jamie's recipes in his book titled: Jamie's Friday Night Feast Cookbook
available from Amazon
now.