Angela Malik and Kirstie Allsopp served up a delicious spiced pear and walnut chutney for the festive season on Kirstie's Handmade Christmas.
The ingredients are: 750g pears (you can use any pears but go for a dessert type, I use Rocha), 1 large cooking apple, 110g onions, 60g sultanas, 60g dried cranberries, 1 orange (juice and grated rind), 225g soft brown sugar, 350ml cider vinegar, 60g walnuts, 1 tsp cinnamon powder, 1 tsp coriander powder, 3/4 tsp ground cinnamon and 1/2 tsp allspice.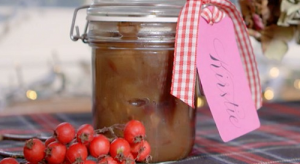 See more chutney recipes in the book titled: The Modern Preserver: Chutneys, Pickles, Jams and More
available from Amazon
now.