Jamie Oliver served up a tasty sage and onion stuffing with apricots, clementines, sausage meat and Vin Santo sweet white wine on Jamie: Keep Cooking at Christmas.
The ingredients are: 2 onions, 1 bunch of fresh sage , (30g), 50 g unsalted butter, olive oil, 2 clementines, 1 whole nutmeg, 100 g higher-welfare turkey livers , optional, 100 g dried apricots, 100 ml Vin Santo, 200 g stale bread and 400 g higher-welfare sausage meat or pork mince.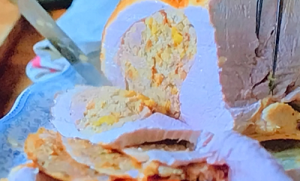 See Jamie's Christmas recipes in his book titled: Jamie Oliver's Christmas Cookbook
available from Amazon
now.