Jamie Oliver served up a delicious scrumptious triple chocolate yule log with a chocolate and hazelnut spread, maraschino cherries, clementines and a chocolate buttercream for the festive season on Jamie: Keep Cooking at Christmas.
The ingredients for the sponge: 4 large free-range eggs, 75 g icing sugar, 75 g self-raising flour, 2 tablespoons quality cocoa powder and 2 teaspoons vanilla bean paste.
For the chocolate spread: 350 g blanched hazelnuts, 350 g quality dark chocolate , (70%) and 100 g unsalted butter.
For the buttercream: 150 g quality dark chocolate , (70%), 150 g unsalted butter , (at room temperature) and 150 g icing sugar.
For the filling: 300 ml double cream, 1 tablespoon icing sugar, 10 maraschino cherries , plus a tablespoon of juice from the jar and 1 clementine.
For the topping: icing sugar and desiccated coconut.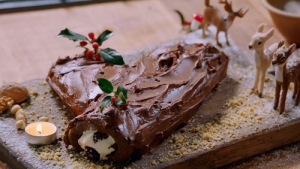 See Jamie's Christmas recipes in his book titled: Jamie Oliver's Christmas Cookbook
available from Amazon
now.