Juliet Sear demonstrated how to make a tasty lockdown sourdough loaf on This Morning.
The ingredients for the starter: 120-200g good bread flour (I use Canadian Strong Flour, or a mix of 50/50 white and mixed grain) and 8-12 tbsp tap water (this should equal the amount of bread flour).
For the levain: 100g bread flour , 100g tap water and Couple of tablespoons of active starter (see above).
For the dough: 700ml warm tap water , 200g of bubbly levain (see above), 1kg of bread flour of your choice (I love extra strong good Canadian white, or a mix of 50/50 white and mixed grain), 20g sea salt and Gluten-free plain flour, for dusting (you could use plain flour).
To serve (optional): Butter , Sea salt , Olives, Olive oil and Balsamic Vinegar.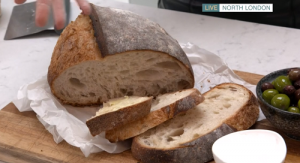 See recipes by Juliet in her book titled: Botanical Baking: Contemporary baking and cake decorating with edible flowers and herbs
AVAILABLE FROM Amazon
now.