Chris Bavin and Ajaz Ahmed served up tasty chicken cheesy loaded fries with homemade chilli sauce and sweet potatoes on Eat Well For Less?
The ingredients for the chilli sauce: 2 x 200g jars jalapeno chillies, drained, 1 tsp smoked paprika, 4 red chillies, roughly chopped, 3 garlic cloves, roughly chopped, 6 tbsp soft light brown sugar, 1 tbsp sea salt and 125ml white wine vinegar.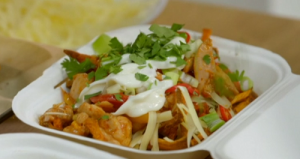 See recipes from the series in the book titled: Eat Well for Less: Quick and Easy Meals
, available from Amazon
now.