John Whaite served up a delicious bonfire toffee (treacle and brown butter sauce) and hazelnut tart on Steph's Packed Lunch.
The ingredients are: 150g plain flour, 1/2 tsp fine salt, 100g unsalted butter, diced, 45g whole milk, 5g vinegar/lemon juice.
For the filling: 140g unsalted butter, 70g black treacle, 70g golden syrup, 150g light brown muscovado sugar, 2 large eggs, 60g full-fat creme fraiche and 75g blanched hazelnuts.
For the topping: 100g full-fat creme fraiche, 100g double cream and 2 tsp cocoa powder, for dusting.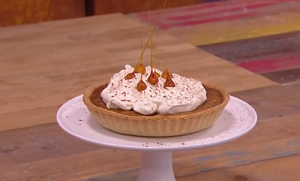 See recipes by John in his book titled: John Whaite Bakes At Home
available from Amazon
now.