Selasi Gbormittah served up delicious hazelnut profiteroles wit chocolate creme pate on Ainsley's Food We Love.
For the craquelins: 75g unsalted butter, 90g demerara sugar, 70g plain flour and 20g ground hazelnuts.
For the pate choux: 70g whole milk, 70g tap water, 50g butter, 1/2 tsp salt, 1 tsp sugar, 80g plain flour and 2 large eggs.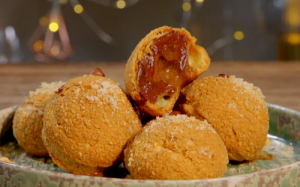 See Ainsley's recipes in his book titled: Ainsley Harriott's Friends & Family Cookbook: Over 200 Reasons to Eat In
available from Amazon
now.