Phil Vickery served up a delicious autumn apple crumble pie with apple brandy Calvados custard on This Morning.
The ingredients are: 2 medium Bramley cooking apples, peeled, cored and cut into large chunks, zest and juice of 1 large lemon, 125g caster sugar, 2 Braeburn apples, peeled, cored and cut into small pieces, 15g butter and Splash of water.
For the custard: 175mls milk, 2 heaped tbsp custard powder and 75g sugar.
For the crumble: 75g cold salted butter, 125g plain flour, 75g caster sugar and 1 x 24cm x 3-4cm deep pastry tart cooked blind and sealed with beaten egg.
For the sauce: 600mls milk, 2-3 tbsp custard powder, roughly, 3-4 tbsp golden syrup, roughly and 3-4 tbsp Calvados, roughly.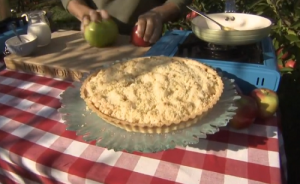 See recipes by Phil in his book titled: Save Money Good Diet: The Nation's Favourite Recipes with a Healthy, Low-Cost Boost
aviialble from Amazon
now.