Angela Hartnett served up tasty midweek meatballs with sauteed potatoes and bread soaked in milk on This Morning.
The ingredients are: 6 tbsp milk, 1 thick slice of stale bread, crusts removed, 500g good quality minced beef, 1 small onion, finely chopped, 1 tbsp finely chopped flat leaf parsley, 4 tbsp freshly grated Parmesan, 1 egg, beaten, Flour, for dusting, 200ml olive oil, for frying, 1 quantity basic tomato sauce (see below).
2 tbsp chopped fresh parsley, Salt and freshly ground black pepper.
For the sauteed potatoes: 400g new potatoes, 4 tbsp olive oil, 1 garlic clove, lightly crushed with the back of your hand and 1 sprig fresh rosemary.
For the tomato sauce: 4 tbsp olive oil, plus extra for drizzling, 1 onion, finely chopped, 2 x 400g can plum tomatoes, 1 garlic clove, finely chopped, 1 tsp tomato puree and Sprig of fresh rosemary.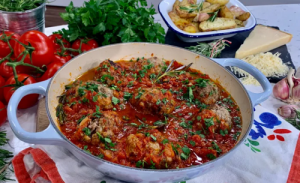 See Angela's recipes in her book titled: Angela's Kitchen: 200 Quick and Easy Recipes
available from Amazon
now.