Italian chef Gino D'Acampo surprises yet another unsuspecting victim with his Kitchen Kidnap on ITV This Morning.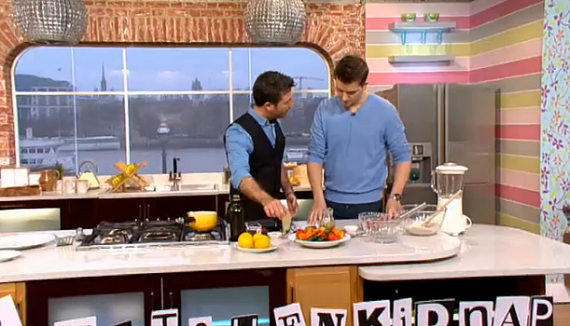 This week it was Keiran Blaszczyk, a college teacher from Southfields, who got the surprise of his life when he was nominated by his mum Terrie to cook with Gino. Terrie says the whole family are in desperate need of Gino's help because although Keiran loves cooking but he uses way too much spice in his food!
Today Gino shows Keiran how to make brill roasted with sweet pepper sauce in the This Morning Kitchen.
The ingredients for the dish are: 4 brill fillets, 70g breadcrumbs, 2 tablespoons freshly chopped parsley, zest of 1 unwaxed lemon, 50g butter, salt and black pepper to taste and fresh basil leaves to garnish.
For the sweet pepper sauce: 1 x 290g jar roasted peppers in oil, 1 x garlic clove, peeled and sliced and 100ml fish or vegetable stock.
To make the dish, place 1 tablespoon of the oil from the jar of peppers in a small pan. Heat gently over a low heat and fry the garlic for one minute. Drain the peppers and add them to the pan. Pour in the stock and bring to a simmer. Cook gently for 5 minutes, then transfer everything to a blender and blitz until smooth. Season with salt and pepper. Return the sauce to the pan and set aside.
Place the fish in a roasting tray, skin side down. Combine the breadcrumbs, parsley, lemon zest, melted butter and seasoning. Spoon the mixture on top of the fish and press down lightly to cover.
Roast in a preheated oven at 200C for 12-15 minutes until the topping is golden brown and the flesh is opaque in the centre when touched with knife.
Sprinkle with the basil leaves and serve.