Simon Rimmer served up tasty pork chops with tonkatsu sauce on Sunday Brunch.
The ingredients for the sauce: 2 diced carrots, 2 sticks of celery, 2 chopped apples, 4 cloves garlic, 300ml ketchup, 200ml Worcestershire sauce, 225ml cider vinegar, 150ml mirin, 1tbs white miso, 250g brown sugar, 1 tbsp ground ginger, 1 tbsp English mustard, 1 tsp each of ground cloves, allspice and cinnamon.
For the pork chops: 4 pork chops, 50g seasoned flour, 2 beaten eggs, 250g panko breadcrumbs.
To serve: kimchee, sticky rice and the sauce.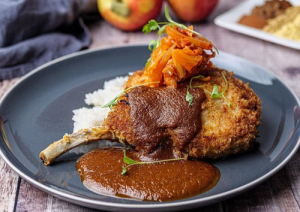 See more Sunday Brunch recipes in the new book titled: The Sunday Brunch Cookbook: 100 of Our Super Tasty, Really Easy, Best-ever Recipes
available from Amazon
now.