James Martin served up a delicious cherry and chocolate mousse (Charlotte Russe) on This Morning.
The ingredients are: a packet of trifle sponge fingers.
For the mousse: 14 leaves gelatine, 500ml custard (shop bought), 300g stoned cherries, pureed, 600ml double cream, whipped and 6 egg whites, whisked to peaks.
For the glaze: 3 leaves gelatine and 300ml cherry juice.
To serve: Cherries, Chocolate swirls and shards, Chocolate matchsticks, Viola flowers and Pouring cream.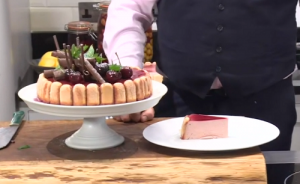 See recipes from James Martin in his book titled: More Home Comforts: 100 new recipes from the television series
, available at Amazon
now.