Asma Khan served up a tasty chicken rezala (Bangladeshi chicken korma) on Sunday Brunch.
The ingredients are: 6 tbsp vegetable oil or ghee, whole garam masala (1 large Indian bay leaf, 1 piece cassia bark – 5 cm long, 2 green cardamom pods and 2 cloves), 2 tsp salt, 4 skinless chicken legs, 1/2 tbsp garlic paste, 1 tbsp fresh ginger paste, 1 tbsp ground coriander, 500g full-fat Turkish or Greek yoghurt, 3 green chillies, juice of 1 lemon, 2 tbsp granulated sugar and a hand full og mint leaves.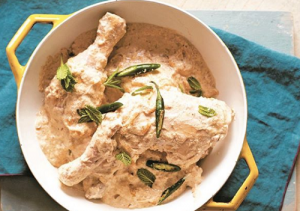 See recipes by Asma in her book titled: Asma's Indian Kitchen: Home-cooked food brought to you by Darjeeling Express
available from Amazon
now.