Ian and Henry (Bosh) served up a tasty and healthy vegan Not-so-naughty burger and chips with black beans, brown rice, burger sauce and a tomato relish on This Morning.
The ingredients for the smoky relish are: ½ small red onion, 1 small garlic clove, 1 small fresh red chilli, 150g cherry tomatoes, ½ tbsp olive oil, ¼ tsp smoked paprika, ½ tbsp tomato puree, 1 tsp maple syrup, ½ lime, Salt and black pepper.
For the burger patties: 130g sweet potato, ½ onion, 2 tbsp olive oil, 85g pre-cooked brown rice, 1 tbsp breadcrumbs, Pinch of salt, Pinch of ground black pepper, Pinch of ground cumin, Pinch of smoked paprika, 2 tsp plain flour and 130g tinned black beans.
For the burger sauce: 1½ tbsp plant-based yoghurt, ½ tsp sriracha, ¼ tsp yellow mustard and ½ tsp red wine vinegar.
To serve: 20g dairy-free cheese, 1 beef tomato (or slices from 2 different colour beef tomatoes), 1 small shallot, 2 medium wholemeal burger buns (about 80g each) and 4 lettuce leaves.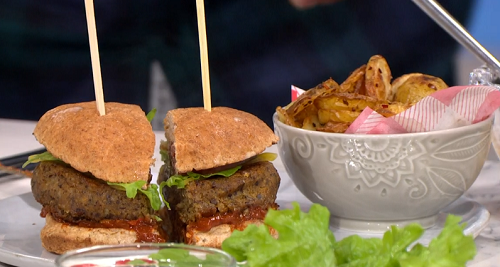 See the recipe in Bosh's book titled: BOSH! Healthy Vegan: Over 80 brand-new recipes with less fat, less sugar and more taste, from the 1 Sunday Times bestselling authors
available from Amazon
now.