Nisha Katona and Nadia Sawalha served up a tasty gingerbread lamb raan with poppy seed potatoes and green beans with cumin and pecan nuts on Nadia's Family Feasts.
The ingredients are: 1 large white onion peeled, 10 cm peeled ginger, 8 garlic cloves, 3 tbsp garam masala, 1 tbsp cinnamon powder, 450g ginger nut biscuits, 1 tbsp salt, 90 ml veg oil, 2 kg leg of lamb and Water 250 ml.
For the poppy seed potatoes: 10 washed and boiled and halved new potatoes, 4 tbsp veg oil, 2 tbsp white poppy seeds, 1 tsp nigella seeds, 2 large deseeded, mild green chillies, sliced thinly, Salt to taste and Finely chopped coriander-small bunch.
For the green Beans with Pecan: Veg oil 4 tbsp, 1 tsp cumin seeds, Green beans 250g topped and tailed and cut in half and steamed to al dente, Cumin powder 1 heaped tsp, Turmeric 1/4 tsp, Chilli 1/8 tsp, Pecan nuts 100g roughly chopped into large pieces, Honey 3 tbsp, Salt 1/2 tsp and Juice of 1 lemon.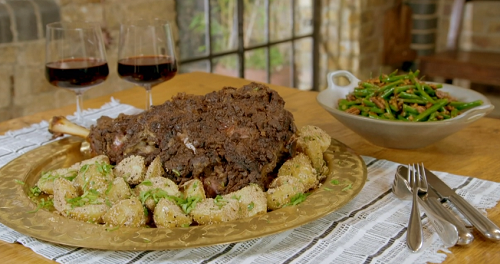 See Nisha's recipes in her book titled: The Spice Tree: Indian Cooking Made Beautifully Simple
available from Amazon
now.
See Nadia's recipes in her book titled: Fabulous Family Food: Easy, delicious recipes you'll cook again and again
available from Amazon
now.