Hairy Bikers served up a tasty crispy carnitas with pork and smoky chipotle macaroni and cheese on Route 66.
2kg boneless pork shoulder, trimmed and cut into large chunks, 2 tbsp vegetable oil, olive oil or lard, 1 large onion, finely chopped, 4 garlic cloves, roughly chopped, 2 oranges, juice only, 1 lime, juice only, 100ml full-sugar coca cola and 250ml chicken stock or water.
For the pork rub: 1 tsp dried oregano, 2 tsp ground cumin, 1 tsp dried thyme, 1 tsp smoked paprika, 1 tsp garlic powder, 1 tsp mustard powder, 1 tsp ground cinnamon, 1 tbsp soft brown sugar and 1 tsp salt.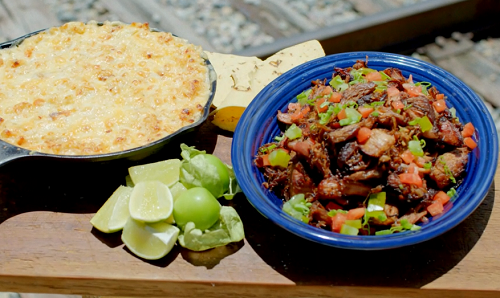 See recipes by Si and Dave in their book titled: The Hairy Bikers' British Classics: Over 100 recipes celebrating timeless cooking and the nation's favourite dishes
available at Amazon
now.