Jamie Oliver served up a tasty South Indian lamb with a gunpowder spice mix, coconut rice, pineapple salsa and a mint dressing on Jamie and Jimmy's Friday Night Feast.
The ingredients are: 1 x 2 kg butterflied leg of lamb , or hogget, bone out (ask your butcher to do this), olive oil and 1-2 fresh mixed-colour chillies.
For the gunpowder paste: 2 dried red chillies, 2 teaspoons ground turmeric, 2 teaspoons fenugreek seeds, 2 teaspoons coriander seeds, 2 teaspoons cayenne pepper, 2 cloves of garlic, 2 tablespoons red wine vinegar and 1 tablespoons vegetable oil.
For the mint dressing: 1 bunch of fresh mint , (30g), 1 lime and 150 g natural yoghurt.
For the pineapple salsa: 1 small ripe pineapple, 1 red onion, 1 lime, 1 bunch of fresh coriander , (30g) and extra virgin olive oil.
For the coconut rice: 3 teaspoons mustard seeds, 2 mugs of basmati rice , (600g), 2 fresh mixed-colour chillies and 3 tablespoons creamed coconut.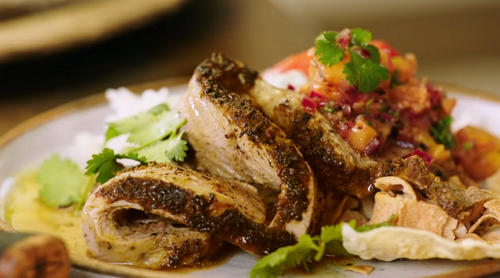 See Jamie's recipes in his book titled: Jamie's Friday Night Feast Cookbook
available from Amazon
now.