Ainsley Harriott served up a tasty Caribbean Lobster Coconut Tempura with Rum Pineapple Salsa and Pina Colada Sauce on James Martin's Saturday Morning.
The ingredients are: 4 Lobster tails, about 175g each, 125g plain flour, 75g cornflour, 1 beaten egg, 200ml soda water, chilled, 200g desiccated coconut and Sunflower oil for deep frying.
For the rum pineapple salsa: 1 tbsp olive oil, 1 red onion, finely diced, ½ small pineapple, peeled and finely diced, ½ red scotch bonnet chilli, deseeded and finely diced, 1 red pepper, finely diced, 100ml golden rum and 3 sprigs Thai basil, roughly shredded or leave whole if leaves are small.
For the Pina Colada sauce: 150ml coconut cream, 150ml pineapple juice, 1 small red chilli, split in half, 1 garlic clove, crushed and 2 tbsp double cream (optional).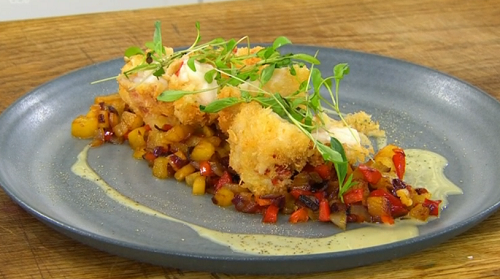 The book for the series titled: Ainsley's Caribbean Kitchen: Full-flavour easy recipes
is available at Amazon
.
See more recipes from Ainsley in his book titled: Ainsley Harriott's Gourmet Express 2
also available from Amazon
now.