With the nationwide search for Britain's Best Bakery drawing to a close this week, the long awaited recipes will finally be available with the launch of a new book to accompany the series.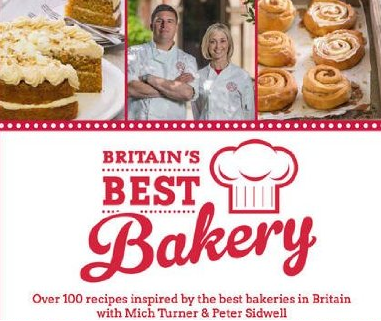 The series that kicked of on our screens in January, saw 60 bakeries doing battle in the hope of clinching the crown of 'Britain's Best Bakery 2014'. This diverse group of independent, family-run and community bakeries competed in a series of baking challenges that put their skills to the test under the watchful eye of judges Mich Turner and Peter Sidwell.
During the various challenges they were able to showcase their skills, regional delicacies and imaginative baking. The book is therefore packed with over 100 recipes from the bakers featured; from artisan bakers to cupcake specialists and pie makers, from family businesses to community enterprises and from young bakers starting out in their baking career to experienced bakers in their 80s.
Hosts and judges Mich Turner and Peter Sidwell, set out on their quest to find the best bakery in Britain by sampling the delicacies of these bakeries and then critiquing their way through their wonderful breads, cakes, pastries and pies until they were able to find and crown the winner of this year's successful bakery.
To order a copy of the book select the link below to the Amazon store:
Britain's Best Bakery: Over 100 Recipes Inspired by the Best Bakeries in Britain with Mich Turner & Peter Sidwell