Raymond Blanc served up a tasty Indian masala spiced vegetable curry on Saturday Kitchen.
The ingredients are: 3 tbsp extra virgin rapeseed oil, 4cm fresh root ginger, peeled, finely chopped, 1 garlic clove, finely chopped, 1 large red chilli, seeds and pith removed, finely chopped, preferably Snub nose or Rio Grande varieties
2 bay leaves, 1 medium onion, cut into 1cm dice, 2 pinches sea salt, 150g button mushrooms, quartered, 1 medium courgette, cut into 2cm dice, 1 small aubergine, cut into 2cm dice, ½ cauliflower, cut into small florets, 440ml coconut milk, 100ml hot water, 3 large plum tomatoes, seeds removed and cut into 2cm dice and small bunch fresh coriander, chopped and ½ lime, juice only.
For the masala spice blend: 5 cardamom pods, 2 tsp coriander seeds, 1 tsp cumin seeds, ½ cinnamon stick, broken into pieces, 12 whole black peppercorns, ½ tsp fennel seeds and 3 cloves.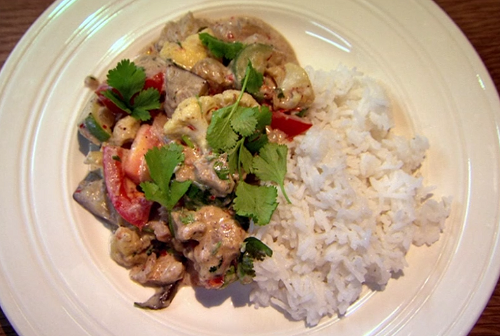 See recipes by Raymond Blanc in his book titled: Kitchen Secrets
available from Amazon
now.