Raymond Blanc served up a tasty steak kidney and oyster pudding on Saturday Kitchen.
The ingredients for the suet dough: 300g self-raising flour, 2 pinches sea salt, 150g suet and about 200ml cold water.
For the filling: 150ml red wine, 150ml brown chicken stock, 700g rump steak, cut into 3cm cubes, 300g ox or calves' kidney, cut into 3cm cubes and soaked, 4 pinches sea salt, 4 pinches freshly ground black pepper, 2 tbsp plain flour, 1 medium onion, sliced, 180g field mushrooms, sliced, 12 oysters, shucked, with about 100ml juice (optional).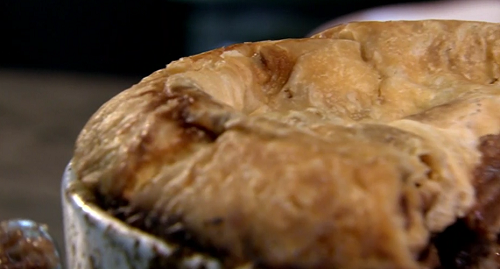 See recipes by Raymond Blanc in his book titled: Kitchen Secrets
available from Amazon
now.