Nadiya Hussain cooked spinach and paneer kati rolls that are regarded as Indian street food on Nadiya's Family Favourites.
The ingredients for the spinach and paneer: 3 tbsp olive oil, 226g block paneer cheese, cut into 1cm cubes, 150g spinach leaves, 4 garlic cloves, finely chopped, 1 tsp cumin seeds, ½ tsp red chilli flakes and ½ tsp salt.
For the kati rolls: olive oil, for frying, 2 free-range eggs, a pinch of salt and 4 small tortilla wraps.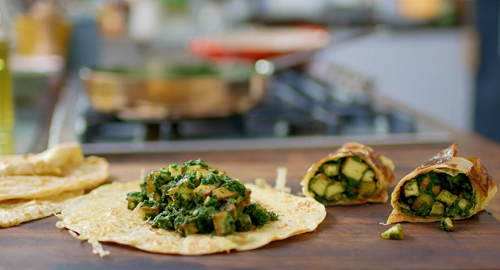 See Nadiya's recipes in her book titled: Nadiya's Family Favourites: Easy, beautiful and show-stopping recipes for every day from Nadiya's upcoming BBC TV series
, available from Amazon
now.