Jamie Oliver produces a mashup of two distinct classic dishes, the Sunday roast and a Friday night curry and brought them into one on today's Jamie and Jimmy's Friday Night Feast.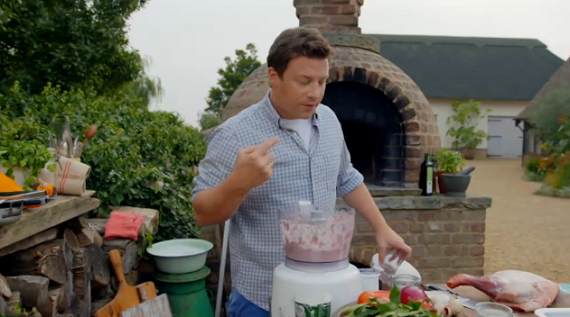 The Essex chef takes roast lamb marinated with curry spices to create his dish.
Jamie says: " Beautifully tender roast lamb marinated with a whole load of spice to give you amazingly gnarly, sticky, sweet but feisty Empire roast lamb."
To make the marinate Jamie used : 5 cm piece of fresh ginger, 1 bulb of garlic, 1 large red onion, 2 fresh green chillies, 50 g ground almonds, 2 tablespoons low-fat natural yoghurt, 1 tablespoon brown mustard seeds and 1 tablespoon white wine vinegar.
To prepare the roast, blitz the marinade ingredients to a smooth paste.
Using a sharp knife, make about 10 incisions, roughly 4cm deep, all over the lamb, and then poke a few curry leaves into each one.
Spread some of the marinade in the roasting dish then place the lamb on top, and then spread the rest all over the top and sides of the lamb.
Pour about half a cup of water in the tray then drizzle a little bit of olive oil over the meat.
Put into a hot oven at 220C for about 20-30 minutes then reduce the temperature to 130C and slow cook for 3-4 hours until tender with the meat falling away from the bone.
To make the sauce, transfer any excess fat from the roasting tray to a small jar to use another time, then place the tray over a medium heat on the hob.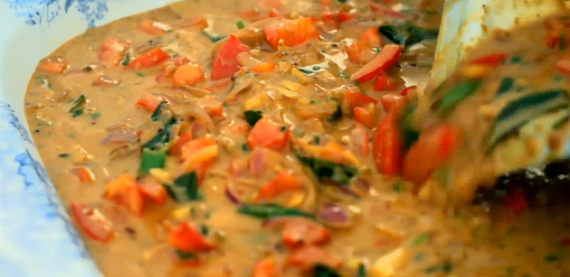 Add the mustard seeds and curry leaves and cook for 1 minute, before adding the ginger, garlic and chilli, chopped ginger. Cook for a further 2 to 3 minutes, or until softened and lightly golden.
Roughly chop and add tomatoes, then stir in coconut milk and simmer for a few minutes, or until thickened and reduced, stirring occasionally.
Season to taste with salt, pepper and a splash of vinegar or a squeeze of lemon juice, then transfer to a large serving platter.
Place the lamb on top, pick over the coriander leaves and drizzle with extra virgin olive oil, then bring to the table with rice, warmed chapatis and poppadoms.