Nadiya Hussain served up a tasty Sunday lunch that contained – garlic and ginger spatchcock chicken, ghee roasties, chicken and coriander stuffing balls, turmeric greens and tomato gravy – Nadiya's Family Favourites.
The ingredients for the ghee roasties: 4 large potatoes, peeled and cut into chunks (about 800g), 50g clarified butter, 1 tsp salt and 2 tsp baking powder.
For the chicken: 1.5kg whole chicken, 25ml olive oil, 2 tsp ground ginger, 2 tsp garlic granules and 1 tsp salt.
For the coriander stuffing balls: 30g fresh coriander, 20g pine nuts, ½ tsp salt, 1 tsp ground coriander, 40g fresh breadcrumbs, 250g chicken pieces, 1 free-range egg and 3 tbsp oil, for frying.
For the turmeric greens: 3 tbsp olive oil, 2 garlic cloves, finely chopped, ½ tsp ground turmeric, ½ tsp salt and 450g green beans.
For the tomato gravy: 2 tbsp olive oil, 1 cinnamon stick, 3 garlic cloves, finely chopped, 1 tbsp tomato purée, 3 tomatoes, roughly chopped (about 450g), ½ tsp salt, 1 tbsp tamarind paste, 300ml boiling water, 1 tbsp cornflour, mixed with 1 tbsp cold water.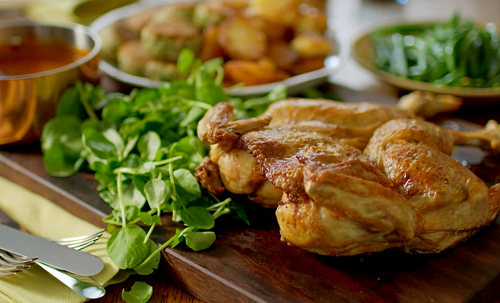 See Nadiya's recipes in her book titled: Nadiya's Family Favourites: Easy, beautiful and show-stopping recipes for every day from Nadiya's upcoming BBC TV series
, available from Amazon
now.