Ian and Henry, the boys from Bosh, served up a giant Mexican vegan burrito on This Morning.
The ingredients for the vegetable filling: 2 medium sweet potatoes (about 500g), cut into 5mm thick slices, 2 tbsp olive oil, ½ – 1 tsp chilli flakes, 1 red onion, finely sliced, 1 each red, yellow and green peppers, cut into slices, 1 tbsp olive oil, 1 tsp garlic powder, 1 tsp paprika, 1 ½ tsp cayenne pepper, 1 tsp onion powder and 1 tsp ground cumin.
For the rice filling: 2 tbsp olive oil, 5 spring onions, trimmed and finely sliced, 3 garlic cloves, finely sliced, 250g cooked basmati rice – you can omit the rice completely or use wholegrain if you prefer, 1 x 400g tin black beans, drained, ¼ tsp Tabasco sauce, 1 tbsp ground cumin, 25g fresh coriander, leaves picked from the stems, 1 tbsp olive oil, 6 – 7 large white tortillas – you can also use wholemeal tortillas, 10 slices dairy free cheese, 100g cherry tomatoes, finely chopped, 3 spring onions, finely chopped, Juice of 1 lime, Salt and black pepper.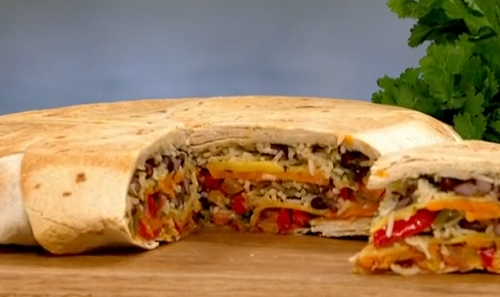 See the recipe in Bosh's book titled: BOSH!: Simple Recipes. Amazing Food. All Plants. The Fastest-Selling Vegan Cookbook Ever
, available from Amazon
now.