Judy Joo served up tasty Korean fried chicken with gochujang sauce and pickled radish on Sunday Brunch.
the ingredients for the gochujang Sauce: 70g dark brown sugar, 1 tbsp Korean chili paste (gochujang), 20ml soy sauce, 20ml tabasco Sauce, 20ml sesame oil, 2 tsp grated ginger, 3 cloves garlic, grated and 1 tsp roasted white sesame seeds.
For pickled radish cubes: 80ml rice vinegar, 80ml water, 75g superfine sugar or caster sugar, 1 tsp kosher salt or sea salt and 500g daikon radish, cut into 1cm cubes.
For Pre-Coating: 32g cornstarch or corn flour, 2 tsp kosher salt or sea salt, ½ tsp baking powder, 8 grinds black pepper, 2 chicken drumsticks, 2 thighs and 4 wings with tips (bone in, skin on).
For the batter: Oil for frying, 70g cornstarch or corn flour, 35g fine matzo meal, or any fine breadcrumb, 35g all-purpose flour, 2 tbsp Korean chili flakes (gochugaru), 1 tbsp kosher salt or sea salt, 3 tsp garlic granules, 3 tsp onion granules, ¼ tsp baking powder, 240ml water, 80ml vodka and 1 60ml bottle hot peppero Sauce.
For garnish: Black and/or white sesame seeds, to taste.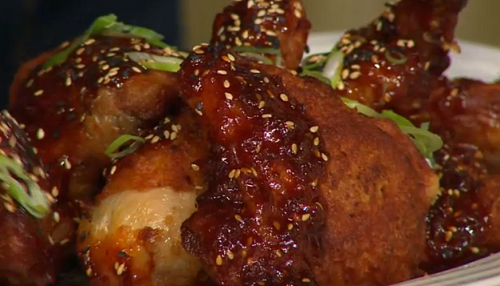 See Judy's recipes in her book titled: Korean Food Made Simple: Easy and Delicious Korean Recipes to Prepare at Home
, available from Amazon
now.