Phil Vickery served up a easy to make Christmas pudding with gin, apples and brandy custard sauce on This Morning.
The ingredients are: 250ml sloe gin, 50g black treacle, 1 tbsp mixed spice, 100g soft brown sugar, 100g raisins, 100g sultanas, 1 small apple grated, 200g chopped Medjool dates, 100g currants, 50g candied fruits chopped optional, 150ml extra virgin olive oil, 50g toasted almonds, chopped, 100g plain flour, 3 medium eggs beaten and ¼ tsp salt.
For brandy butter: 250g soft salted butter, 75mls Brandy or better still Armagnac, Zest and juice of 1 lemon, 115g golden icing sugar, ¼ tsp grated fresh nutmeg and ¼ tsp mixed spice.
For the brandy custard sauce: 568ml full cream milk, 30g custard powder, mixed with 4 tbsp cold water, 55g unrefined caster sugar, 55g cold salted butter, cut into small cubes and Brandy or Armanac to taste.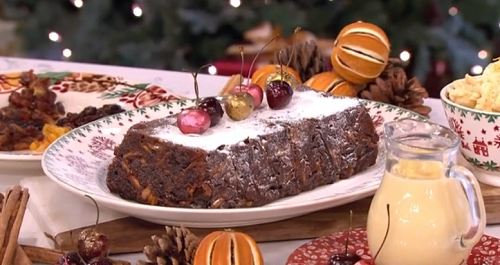 See more dessert recipes by Phil Vickery in his book titled: Phil Vickery's Puddings
, available from Amazon
now.