Phil Vickery served up a sweet and sticky toffee pudding with medjool dates on This Morning.
Phil served his pudding with a toffee sauce, cream and ice cream.
The ingredients are: 85g softened salted butter, 160g soft brown sugar, 2 medium eggs at room temperature and beaten, 230g self raising flour, 1 level tsp baking powder, ½ tsp salt, 300mls boiling water, 200g Medjool dates, chopped into 1/2 cm pieces, 50g plump sultanas and 2 tbsp vanilla essence.
For the sauce: 120g unsalted butter, ½ tsp salt, 140g soft brown sugar, 2 tbsp black treacle, 300mls double cream, Juice from 1 large lemon and 2 tbsp vanilla extract.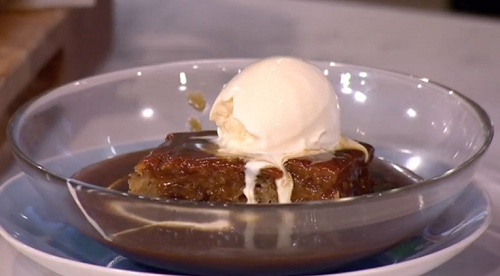 See the recipe in Phil's book titled: Phil Vickery's Puddings
, available from Amazon
now.