Gino D'Acampo served up a chicken with wild mushrooms, spinach and thyme dish in tribute to the late chef Antonio Carluccio on This Morning.
The ingredients are: 2 skinless, boneless chicken breasts, 30g plain flour, 1 garlic clove, peeled, 6 tbsp olive oil, 1 tsp fresh thyme leaves, 150g fresh wild mushrooms, 4 tbsp dry white wine, 100ml hot chicken stock, 1 tbsp salted butter, Salt and freshly ground black pepper.
For the spinach: extra virgin olive oil, chillies and garlic.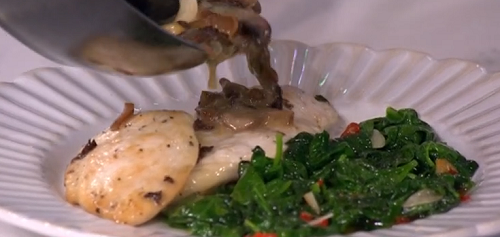 See Gino's latest recipes in his new book titled: Gino's Italian Coastal Escape: A Taste of Italy from the Aeolian Islands to Elba
, available from Amazon
now.