Nigel Salter serves up a wonderful turkey dish ideal for boxing day on today's Nigel Slater's Simple Suppers for Christmas.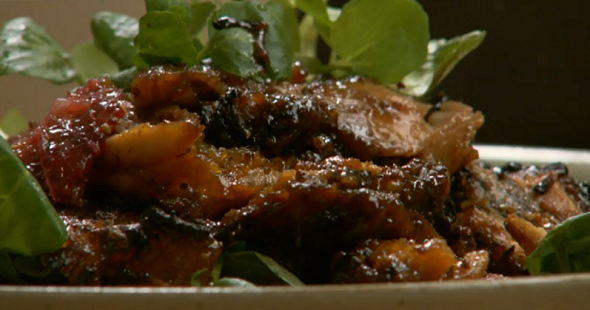 Nigel Slater dresses his leftover turkey up with a sweet-and-sour marinade and a zingy citrus salad.
To make his turkey dish, Nigel strips the meat from a cooked turkey, keeping the pieces as large he could to allow them to remain juicy.
He then peels some garlic and adds it to a pestle and mortar along with a generous pinch of salt. He grinds to a paste then transfers it to a bowl.
Nigel stirs in honey, soy sauce, chilli sauce, ketchup, mustard and a drizzle of groundnut oil.
He seasons with a little black pepper, then adds the turkey meat. He tosses the dish gently then tip everything into a baking dish. He bakes it for 20 minutes or until the meat is glistening.
Meanwhile he makes a salad by peeling oranges and grapefruit then sliced them thinly. He adds watercress to finish the dish.
Nigel serves the turkey by piling the hot turkey onto the salad and serve.