Rustie Lee served up Caribbean fish cakes with mango coleslaw on This Morning.
The ingredients are: 450g self raising flour, 1 tsp coarse sea salt, ½ tsp ground black pepper, 110g butter, cut into small cubes, 275ml cold water, 4 spring onions, finely chopped, 1 red chilli, finely chopped, 225g salt fish (soaked according to packet instructions) or cod flaked, Oil for shallow frying and Chopped fresh parsley for garnish.
For the mango slaw: 1 large mango, peeled and finely sliced, 2 carrots, coarsely grated, Half a small red cabbage, finely shredded, Half a white cabbage, finely shredded, 1 small red onion, finely sliced and 1 bunch coriander, chopped.
For the dressing: Juice of 1 large lime, 1 tbsp cider vinegar, 2 tbsp vegetable oil, sugar, to taste, salt and freshly ground black pepper.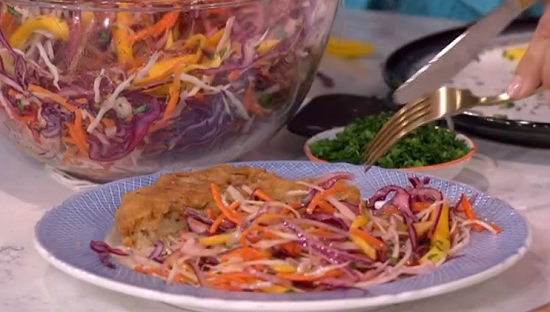 Rustie Lee Spice and Spark
cook book is available from Amazon
now.