Phil Vickery served up chicken tikka masala with tomato soup for a Saturday night curry on This Morning.
The ingredients are: 4 chicken breasts, skin on, cubed into 4 cm pieces, juice and finely grated zest 1 large lime, 1 tbsp. very finely grated fresh ginger, 3 cloves garlic, very finely crushed, ½ tsp red chilli powder, 1 tbsp smoked paprika, 1 tsp ground cumin, 2 tsp garam masala, 2 tbsp coriander, 2 tbsp oil, 100g thick sheep yoghurt, salt and pepper.
For the sauce: 4 tbsp oil, 2 tbsp ground coriander, 2 tsp turmeric, 4 tsp paprika, 4 tbsp grated ginger, 2 tsp fenugreek leaves (optional), 2 tsp garam masala, 1 small red chilli chopped very finely, ½ tsp ground cloves, 2 large onions very finely chopped, 4 cloves garlic, 4 ripe tomatoes, chopped, 1 can Heinz tomato soup, 1 chicken stock cube, 125 mls whipping cream, 4 tbsp white wine vinegar, 50-75g cold and cubed unsalted butter, a few leaves of fresh coriander and a pinch of sugar.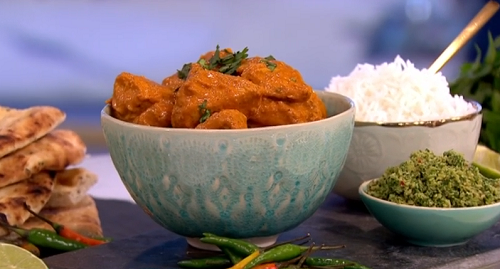 Phil Vickery's Essential Gluten-Free: 175 recipes that will revolutionise your diet. In association with Coeliac UK.