It's the grand final of Junior Bake Off, and after 2000 applications, 900 eggs, 50kg of flour and 96 blocks of butter, the last four bakers spend their last day in the baking tent battling to become Junior Bake Off 2013 champion.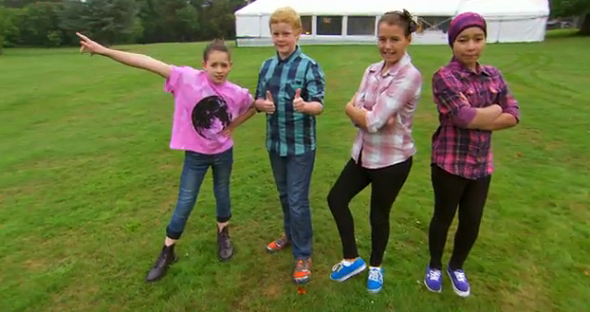 On day one of the finals, the bakers had to prove that they were able to working in a professional kitchen. On day two they faced the knowledge test and had to bake for the number one dance group in the UK, Diversity. Now on the final day of the finals, the finalist – Ruby, Harry, Emma and Zainab – must produce their best bakes yet as they bake for a mad hatters tea party extravagansa.
[imagebrowser id=36]
They will produce their bakes for friends and family, so a very good bake would no doubt go down well.
Mary Berry and James Martin will keep a watchful eye on the skills of the young bakers as always, when they put them to the test one last time in their bid to be crowned Junior Bake-Off Champion.
The judges task the young bakers to produce a savoury and a sweet offering for the tea party.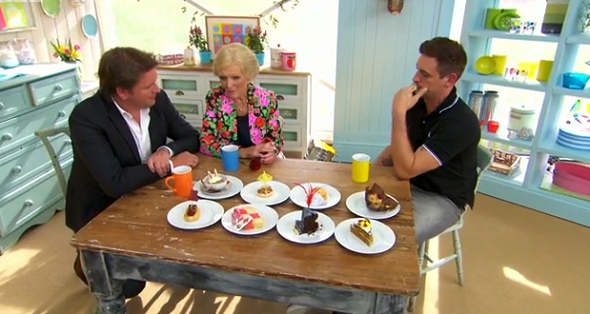 For her savoury bakes, Ruby baked her Mock-Chock Eclairs filled with Smoked Salmon Pate, and for her sweet bake she made Earl Grey Cupcakes with Cucumber and Lime Icing.
For her savoury bakes, Emma baked Chilli, Chorizo and Pepper Scones filled with chilli cream cheese. For her sweet bake, Emma made a Mad Hatter Chocolate cake and Shortbread Hat with fresh strawberries and raspberry cream.
For her Savoury bakes, Zainab made Cocktail Pizzas with tuna and melted cheese and for her sweet bake, Zainab made Peppermint and Vanilla Chequered cake with buttercream.
For his Savoury bakes, Harry made White Rabbit Muffins with rabbit, mushroom and chorizo and for his sweet bake, Harry made Stopwatch Carrot cake with Orange and Cream Cheese Icing.
The young bakers gave it all that they could, but in the end there could only be one winner. The person the judges decided to choose as the winner of Junior Bake off 2013, was Harry.