Earlier in this episode of Paul Hollywood Pies and Puds, Paul was joined by two American bakers living in London – David Lesniak and David Muniz – who brought with them a number of American treats for the master maker to try. They also showed Paul how to make an American apple stack cake.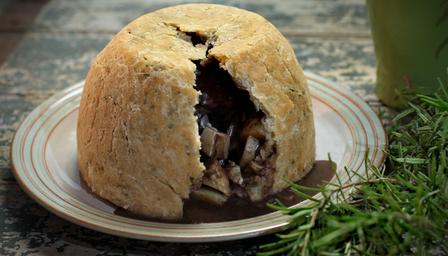 Now Paul wants to show them in return how to make a classic British dish, lamb and kidney suet pudding with rosemary.
Rather than the usual steak, Paul used lamb shoulder, which is full of flavour and is complemented wonderfully by a good shot of fresh rosemary.
I have had steak and kidney puddings many times when I was younger, but like Paul's American guests, I have never tried lamb and kidney suet pudding. however, the look on the American's faces told Paul that they were not too keen on the idea of kidneys in a pie. So, in the interest of our two countries special relationship, Paul substituted the kidneys for potatoes.
It turned out to be a wise move, because the Americans soon found their appetites once again for the big banquet at the end of the show.