The sweet flavours of American were brought to Paul's kitchen today by two American bakers, David Lesniak and David Muniz who now live in London where they run their baking business.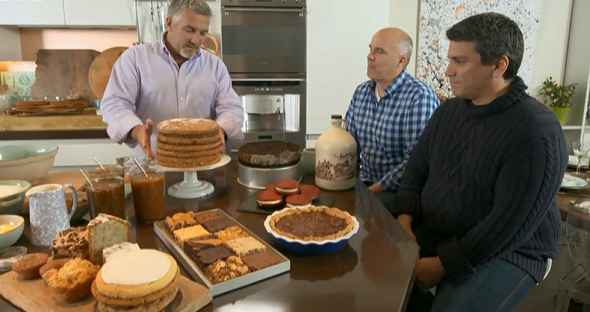 The two bakers came together to pool their baking knowledge a few years ago and came up with unique recipes that combines their North America and deep South America baking knowledge as a hobby initial. Now they run a striving business in London's West End producing their unique all American bakes.
Today they showed Paul how to bake a six tier American apple stack cake that looked as though it could fee an army, but the bakers said it was meant for only six people (see Photos below).
To bake their stack cake, the beakers combined cream butter and brown sugar together in one bowl and mix their dry and liquid ingredients separately.
The bakers use a special ingredient known as molasses that was imported from America to give their bake added flavour.
They eventually mix all their ingredients together and pour into six separate containers and baked at 175 degrees for about 10 to 12 minutes.
After baking, the layers are stacked together with home-made apple butter between them.