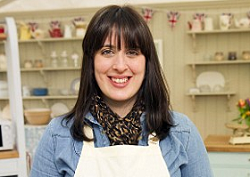 Beca Lyne-Perkis served up a treat with her Grapefruit Sandwich signature bake that Paul Hollywood found hard to resist.
The 31 year old from Cardiff, bakes for her family, for her husband's regiment and for her local Military Wives' Choir of which she is a member.
Beca's baking combines traditional family recipes with her own clever twists on flavours, but many of her baking skills comes from her mother and both grandmothers.